The Collections
We've got a vast array of door styles and colours to choose from in market leading quality and specification. Whether you're in the contemporary camp, the traditional tribe or somewhere in the middle, you're bound to find something here that'll make your new kitchen dream come true.
Consider the layout of your space
How do you visualise your new kitchen to look? Choose from one of our popular shape recommendations below
Linear

Linear is often small but sometimes found in larger spaces too.

Galley

Ideal for narrow rooms, Galley kitchens maximise space and use two walls.

L-shape

A popular choice using two walls in a room and leaving space to walk round comfortably.

U-shape

Using 3 walls to create a mass of storage, a U shape kitchen is the focal point of the room.

G-shape

A G shape builds on the idea of a U, minimising walk in space and maximising storage.

Island

Include an island where space is plentiful to create a flexible space and a feature area.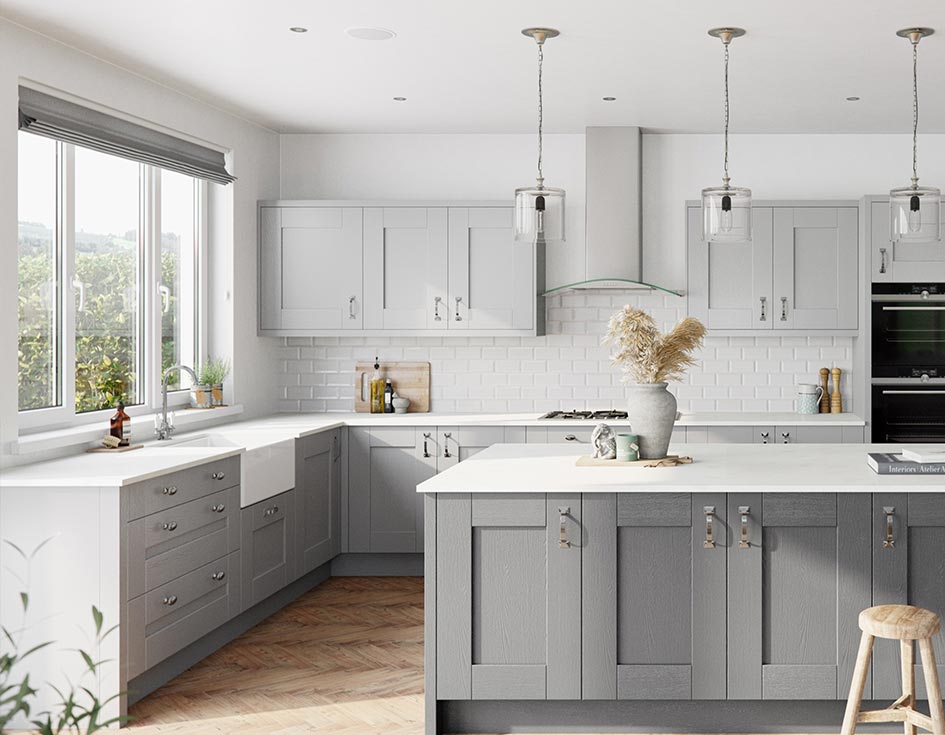 Kitchen Styler
Want to get a quick idea of how a new kitchen could look? Click here to launch our styler tool that helps you to visualise door styles and colours along with floor and wall finishes.
View Styler
Next Steps
So, you've browsed the collections, you've got some inspiration and you're starting to understand what you might want in your new kitchen – what's next? We've split your journey into 4 easy steps, culminating with a new kitchen at a price and a specification that you'll struggle to believe!
Book an Appointment
Choose from pre-set layouts or start from scratch
Please select an option below
Select your kitchen layout
Please select an option below
What size is the kitchen?
Select the options from the menus below or simply drag the room shape below to the desired size.